Whether you have the luxury of working from home or must spend hour upon hour in an office or cubicle, having a space that is comfortable and inviting can help make the day a little better. Seriously, who wants to look at beige walls all day.
Luckily, a wide variety of gadgets is available that can help us customize and individualize our workspace. From lighting to keyboards to USB hubs, many of these gadgets not only add individual flare but aid in productivity.
#15. Laser Projection Keyboard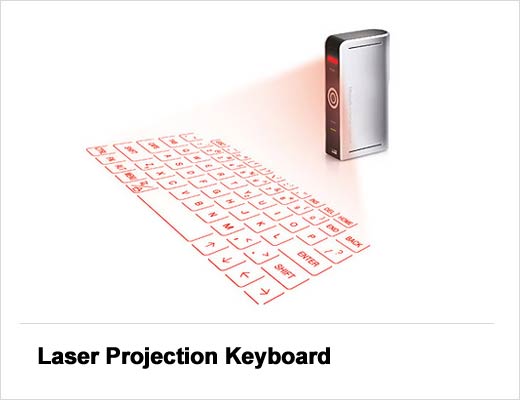 We may not have flying cars but we've certainly stepped it up since cell phones were the size of bricks. Welcome to the future, friends, and say hello to the Laser Projection Keyboard. This pocket-sized device connects with Bluetooth to project a fixed keyboard pattern onto any surface, turning any flat space into a workspace. The motion-sense lasers also double as a mouse, detecting your hand movement as you click, double-click, or scroll.
Cost: $150
#14. Primo Wi-Fi Media Streamer – Grace Digital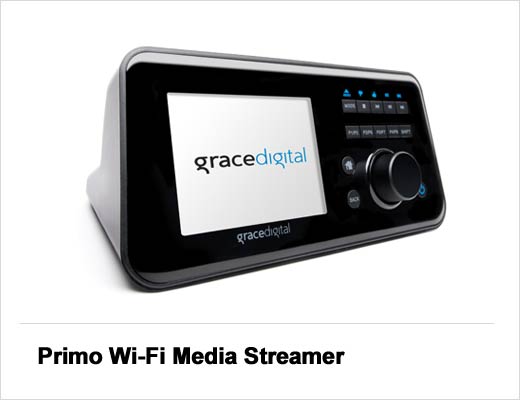 Grace Digital Inc, a leading brand of wireless Internet radios, has introduced the new Primo Wi-Fi Media Streamer. The latest addition to the Grace Digital line-up delivers access to over 50,000 radio stations, podcasts and on-demand content from the convenience of an iPhone or Touch remote straight to users' existing stereo or powered speakers. Primo sets up within minutes by simply connecting to Wi-Fi, giving instant access to online services such as Pandora, Live365, SiriusXM, Rhapsody, or saved music from a PC or Mac.
List price: $149.99
#13. USB Air Purifier and Fan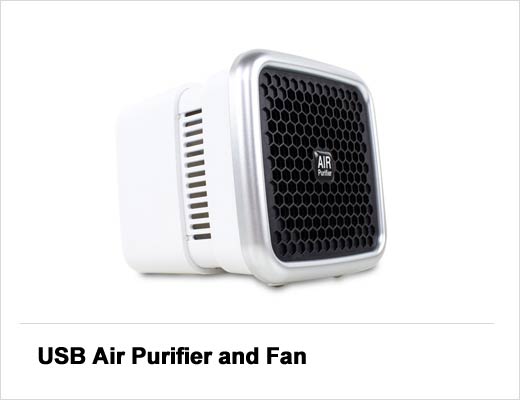 The Satechi USB Air Purifier and Fan is the ideal home or office companion. The 2-in-1 air purifier and fan removes odors and irritants from any space and also provides a cool and comfortable environment. The compact device is travel friendly and circulates purified and soothing air in hotel rooms and other enclosed spaces while on the road. The plug and play USB Air Purifier and Fan is powered and easily recharged via any USB port and is whisper quiet to ensure discreet operation in any environment, especially important when in shared spaces.
List price: $49.99
#12. Kikkerland USB Battleship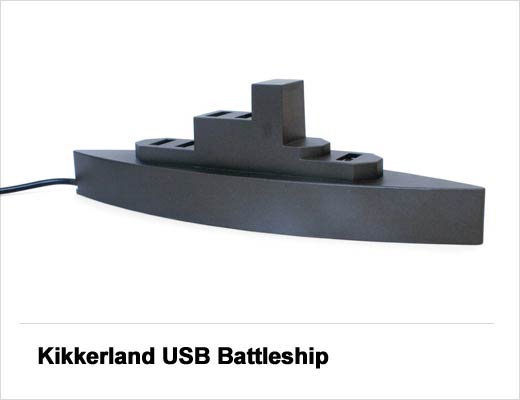 Too many devices, but not enough USB ports? No problem. This Kikkerland USB Battleship wins that fight with its loaded deck of five USB ports. Version 2.0.
Cost: $20
#11. Belkin WeMo Switch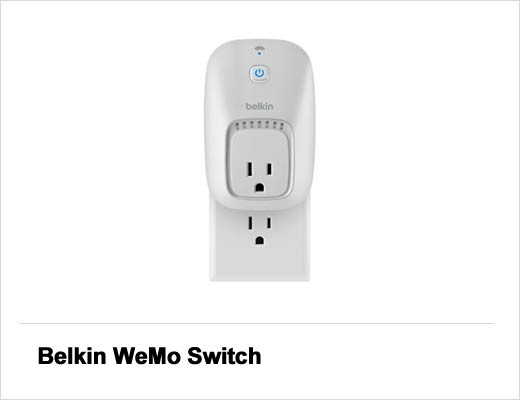 The Belkin WeMo Switch lets you turn electronic devices on or off from anywhere inside – or outside – your home or office. The WeMo Switch uses your existing Wi-Fi network to provide wireless control of TVs, lamps, stereos, and more. Simply download the free WeMo app, plug the switch into an outlet in your home or office, and plug any device into the switch. You'll be able to turn that device on or off using your smartphone or tablet. You can even set schedules for your devices and control them remotely using a mobile Internet connection.
List price: $49.99
#10. Kanex Multi-Sync Keyboard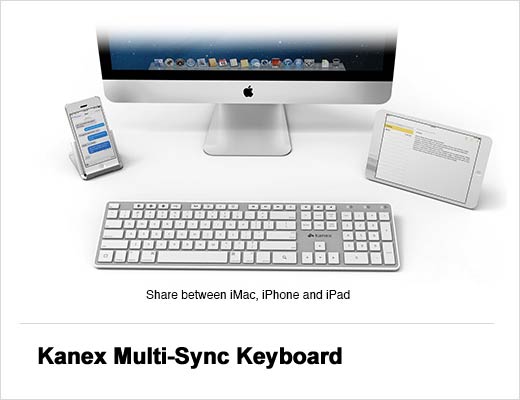 Take multi tasking to a new level with the Kanex Multi-Sync Keyboard. This full-sized, wireless Bluetooth keyboard can be shared between multiple devices. Reply to a text on your iPhone, take notes on your iPad, type away on your Mac.
Cost: $69.95
#9. Canvio AeroMobile Wireless SSD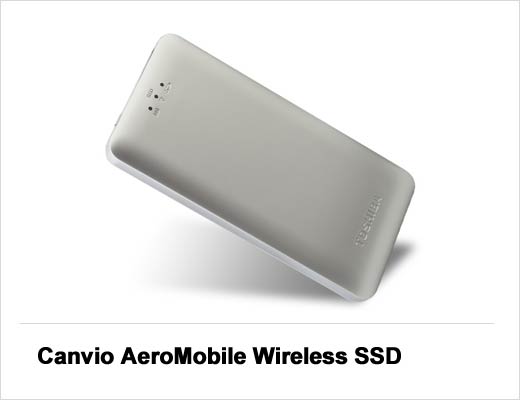 Toshiba's new portable Canvio AeroMobile Wireless SSD offers a smart, easy, more reliable way to store, stream and share your files and media between your favorite mobile devices. Combining the convenience and capacity of portable wireless storage with the proven durability and performance of solid state technology, this slim, lightweight device frees you and your smartphone, tablet or camera to go and take unlimited pictures or video. Just upload them instantly to the wireless SSD and you're off.
Cost: Starts at $139.99
#8. Satechi Flexible LED Desk Lamp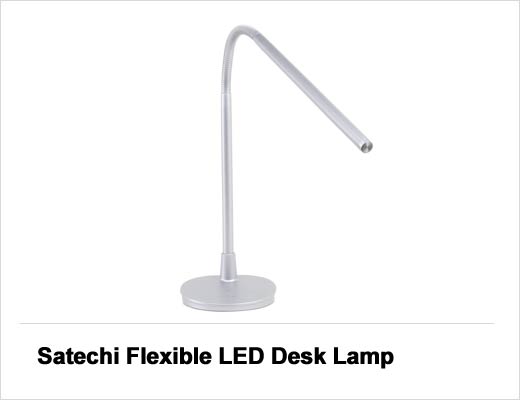 Satechi's Flexible LED Desk Lamp features versatile functions that make it a necessary companion and accessory for any home or office space. The sleek, silver lamp has an adjustable neck and is programmed with five brightness levels to aid users through any work or studying conditions. The Flexible LED Lamp boasts a USB port, located in the rear of the lamp, for charging devices such as smartphones, music players, cameras and other devices, even when the lamp is off. The user-friendly, touch-sensitive lamp has controls for turning on and adjusting brightness with the touch of a button. Additionally, the environmentally friendly lamp only consumes eight watts of power, up to 80 percent less than a typical fluorescent light.
List price: $69.99
#7. Parrot Flower Power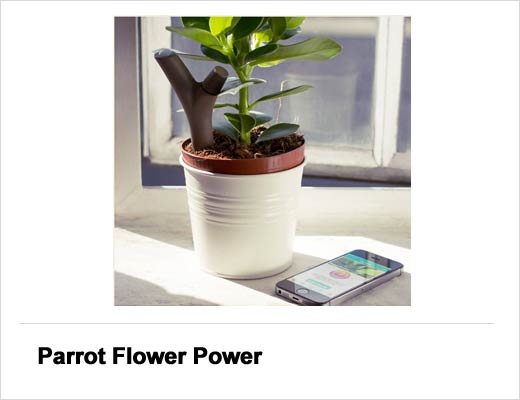 If you're weary of mercilessly killing plant after plant or you just want to be the best gardener there is – you need the Parrot Flower Power plant monitor. Pair this technology-packed twig to your smartphone via Bluetooth and the intuitive app provides you with a rich bounty of botanical data, as well as accurate tips for taking care of your plant. The real-time analysis tells you about the health of your plant and makes short-term predictions about the love and tenderness you need to lavish upon it.
Cost: $84.59
#6. Transcendent Keyboard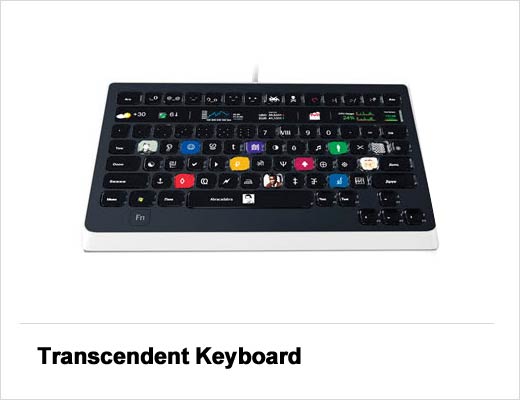 With the Transcendent Keyboard, every key on this keyboard is a 72 x 72 pixel screen that displays any image or icon for personalizing shortcuts and keyboard commands. An LCD inside the keyboard converts all 77 keys into 1/2″ x 1/2″ displays that render up to 262,144 colors. The software enables different keyboard layouts for customized configurations when surfing the web, working, and playing games. Compatible with Windows XP or higher; Mac OS X 10.8 or higher. Plugs into USB.
Cost: $2,000
#5. Logitech USB Headset H570e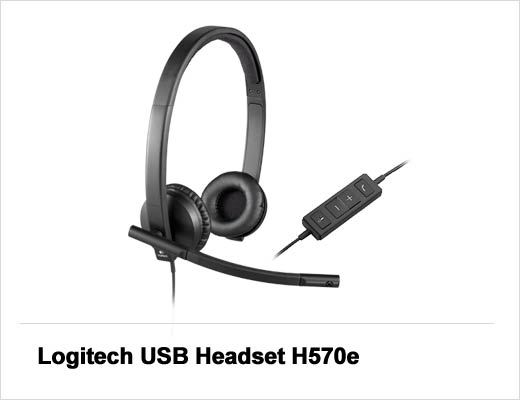 Logitech recently introduced the new Logitech USB Headset H570e, designed for all-day comfort and ease of use. The headset is compatible with most unified communication (UC) platforms. It is available in stereo for employees who need to block out surrounding noise during desktop calls, and in mono for employees who prefer to have an open ear to their surroundings. It has a durable and adjustable padded headband for all-day comfort, while the metal reinforcement provides strength and flexibility for the best fit. The leatherette headset ear pads are also designed to be comfortable for hours of use and can be easily cleaned or replaced as needed. Inline controls include volume up/down, microphone mute and call answer/end and are designed to be intuitively navigated by touch.
Cost: $49.99
#4. USB Desktop Aquarium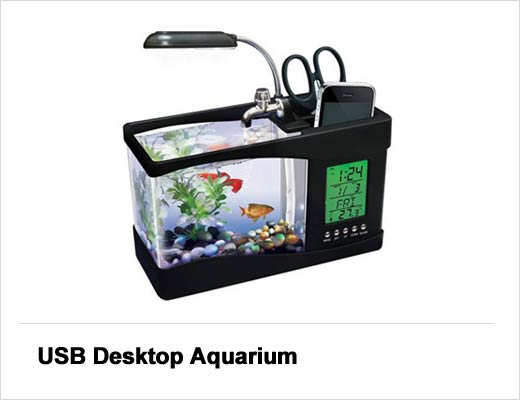 The USB Desktop Aquarium makes the perfect novelty gift for the techie in your life. A fully functional small desktop aquarium with running water, powered by the USB port in your computer, comes with an adjustable overhead light, multicolor interior lights and even a low-voltage working pump and an under-gravel filtration system. The small aquarium doubles as a desktop organizer/pen holder. Built right into the USB aquarium is a multi-feature digital LCD information system that displays the time/date, week/temperature, along with an alarm clock with snooze and a countdown timer.
List price: $39.99
#3. Sphero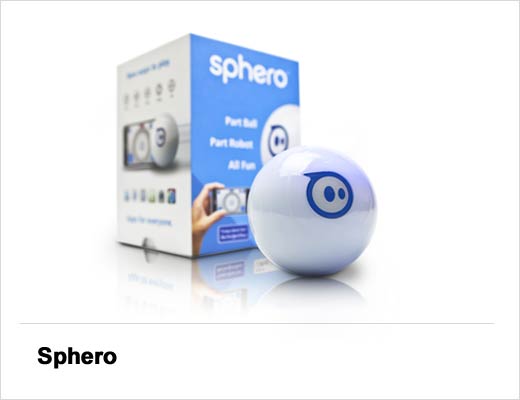 Sphero is the first robotic ball gaming device that you control with a tilt, touch, or swing from your smartphone or tablet. You can even use Sphero as a controller for on-screen gameplay. Sphero interacts seamlessly with mobile apps, giving you new ways to test your skills, play games with friends, and more. A Bluetooth connection makes Sphero ready to play as fast as you can launch an app. And with single- or multi-player games, Sphero will always surprise you.
List price: $129.99
#2. Polk Hampden Speakers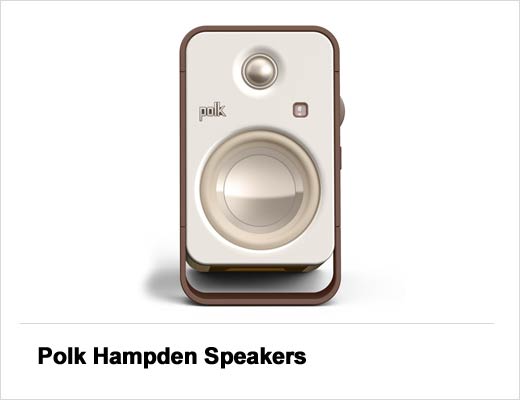 After making its public debut at this year's Consumer Electronics Show, Polk recently announced the retail availability of its newest bookshelf loudspeaker, Hampden. Designed to serve as either a near-field desktop audio solution or an extension of a larger home theater system, Hampden is a sophisticated pair of speakers with Bluetooth® wireless technology that boasts impressive, room-filling sound in an attractive package.
Cost: $99.95
#1. Sony AS20 Action Cam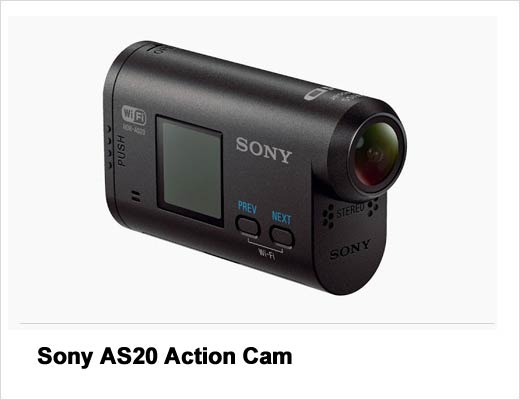 Building on its growing line of Action Cam POV (point of view) cameras, Sony recently introduced the new AS20 model to the U.S. market. The camera packs many of Sony's latest POV imaging technologies including SteadyShot™ image stabilization into an ultra-compact body at a competitive price. The new AS20 camera also features a high-quality ZEISS® Tessar® lens with a huge 170° field of view for the ultimate wide angle experience. A built-in stereo microphone delivers outstanding sound quality, adding an extra dimension of realism to those everyday adventures.
Cost: $200
Share your thoughts in the comments below...