Create order out of chaos with creative, low-cost—or, even better, no-cost..!!
#10. Use Shoe Boxes as DIY Dividers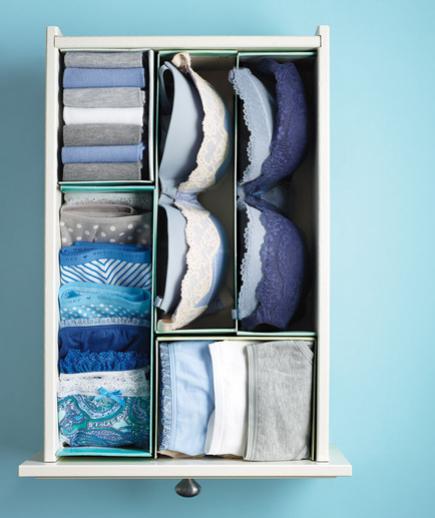 Why pop for manufactured drawer dividers? You can make a completely customizable set with just scissors and shoe boxes. Simply cut the boxes in half by length or width, as needed for your space, then tuck into a drawer.
#9. Use a Picture Frame as Dry-Erase Board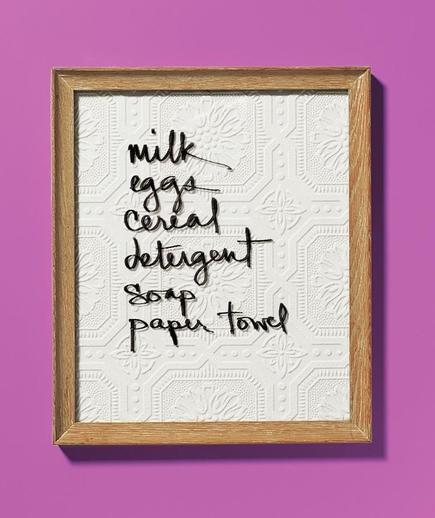 Stay on top of your errands with an eye-catching DIY memo board: Frame a pretty scrap of fabric or wallpaper, hang in a high traffic area, and use a dry-erase market to jot down reminders on the glass. Extra points for attaching the marker to the frame with a coordinating ribbon.
#8. Use Pegboards to Create a Mini Dressing Station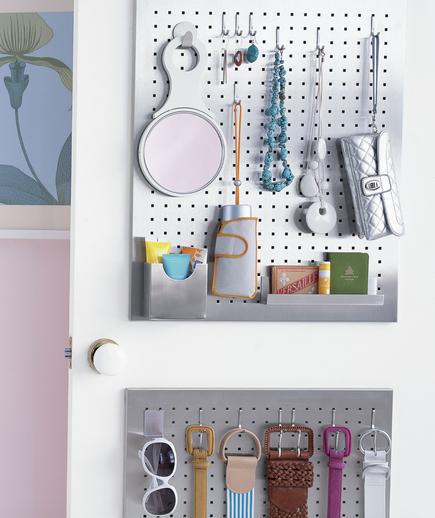 Transform the inside of your closet door into a one-stop shop for accessories by using pegboards to neatly and visibly display necklaces, scarves, belts, and more. Hang a small mirror, so you can take one last look before jetting out the door.
#7. Use Velcro as Stuffed Animal Storage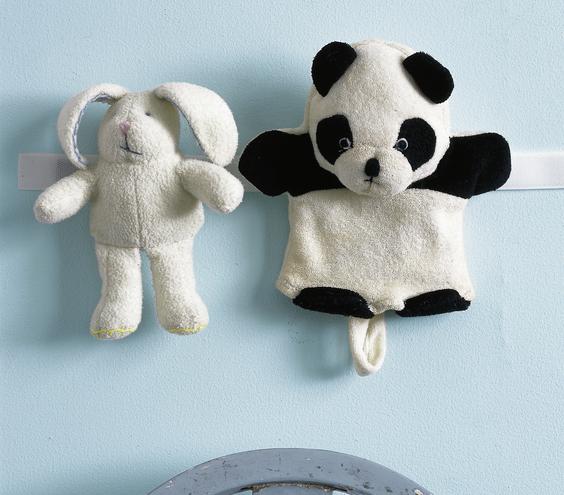 Keep dear old Teddy on hand—but off the floor—with a few strips of Velcro. Attach half of each strip to the back of lightweight stuffed animals and the other half to the wall, using the Velcro's soft side on the toys to avoid potential scrapes.
#6. Use a Stepladder as a Bedside Table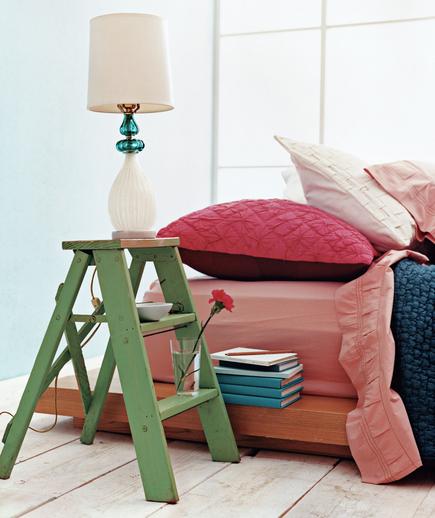 This minimalist take on a night table holds only the essentials—a lamp, a smartphone, water—forcing you to edit which items spend the night there.
#5. Use Magnets as a Medicine Cabinet Organizer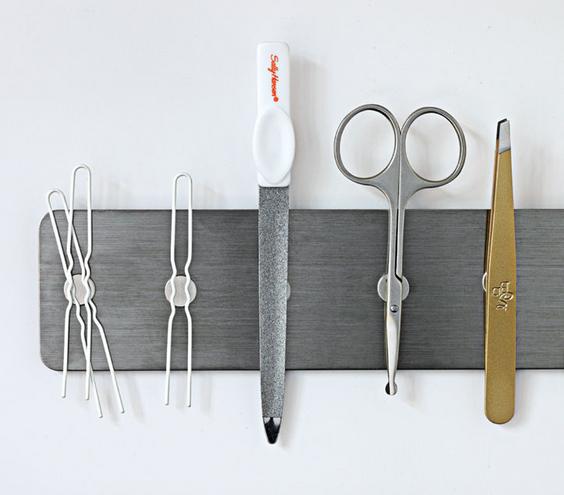 Mount a magnetic strip (we used the Mini Magnetic Strip Bulletin Board, $6.50, seejanework.com) on the inside of the medicine cabinet door to store tweezers, bobby pins, and other grooming tools in plain sight.
#4. Use Jars as Floating Storage Spaces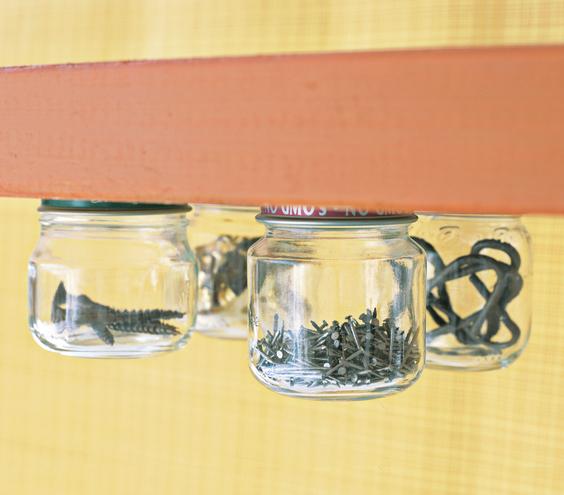 Fill small jars with tacks, nails, buttons, or other easy-to-lose supplies, then attach the lid of each jar to the underside of a shelf. Voilà! Instant storage without wasting a precious inch of shelf space.
#3. Use a Picture Frame as a Key Organizer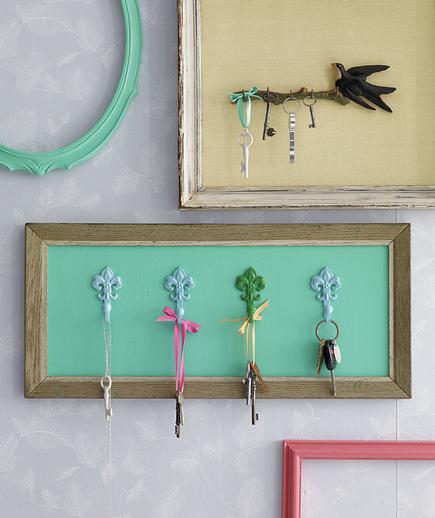 Never panic about missing keys again. Ditch the glass from an old frame, then cover the backing with paint, fabric, or decorative paper. Affix quirky hooks, designating one for each member of the family.
#2. Use a Wine Rack as a Wall Organizer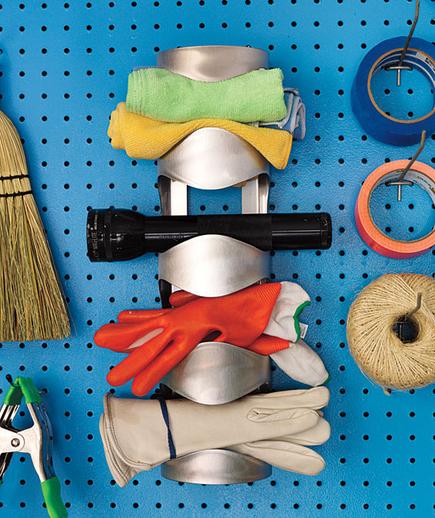 Hang an unused wine rack on the wall of your garage or supply closet to stash rags, tools, extension cords, and more odds and ends.
#1. Use a Tension Rod to Store Cleaning Products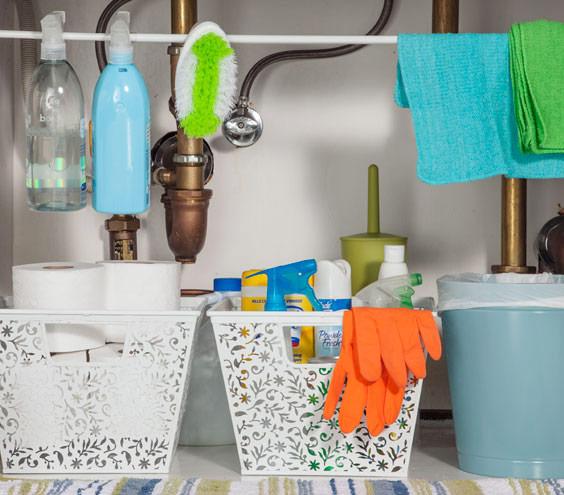 Secure a tension rod in the cabinet underneath your bathroom or kitchen sink, then hook on your most frequently used sprays and scrubbers for instant access.
Share your thoughts in the comments below...