Tomboy and sexy are not mutually exclusive terms. As plenty former tomboys can attest, a childhood preference for snails, sports and monkey bars does not in any way equate with a lack of sexuality in adulthood. Plenty of the hottest icons adorning locker doors and dormitory walls used to be what many would call a tomboy – and many others still are. So who needs labels anyway?
According to an interview with the New York Times, Melissa Atkins Wardy, the author of Redefining Girly: How Parents Can Fight the Stereotyping and Sexualizing of Girlhood, From Birth to Tween, believes that "tomboy is an unhelpful word that suggests if girls are brave or athletic or strong, they're tomboys, and being the opposite of those things is girlie. It's a way we box in and teach these kids to perform gender roles. Your gender identity should not assign who you are or who you are taught to be in the world."
And Wardy is so right. But rather than rejecting the label of tomboy, some of the sexiest celebrities have embraced it. Tomboyish characteristics include some that are also considered extremely attractive, including confidence, fitness, and independence.
You've watched some of these Hollywood tomboys grow into sexy sirens, while others' past proclivity to all things "boyish" may surprise you. Either way, check out these 12 Hollywood tomboys who turned out super hot.
#12. Keira Knightley.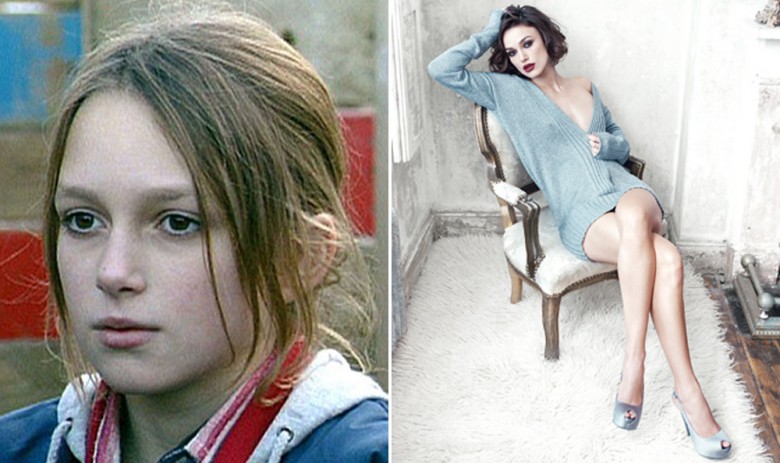 The sexy British starlet never even put on a skirt until she was 14, several years after she made her television debut at the tender age of 8. And while the actress is now more accustomed to red-carpet gowns, she still prefers a comfortable men's shirt.
"I'd go with boyish chic," Knightley, 30, told the Belfast Telegraph when asked about her personal style in 2011. "Growing up I was a tomboy. I didn't wear skirts until I was 14. I hated them. I love a man's shirt."
Still, Knightley recognizes the charm in her tomboyish ways.
"I also think that maybe being a tomboy makes me quite interested in heightened femininity," she told The Guardian in 2014. "There's definitely a contradiction there.
#11. Janet Jackson.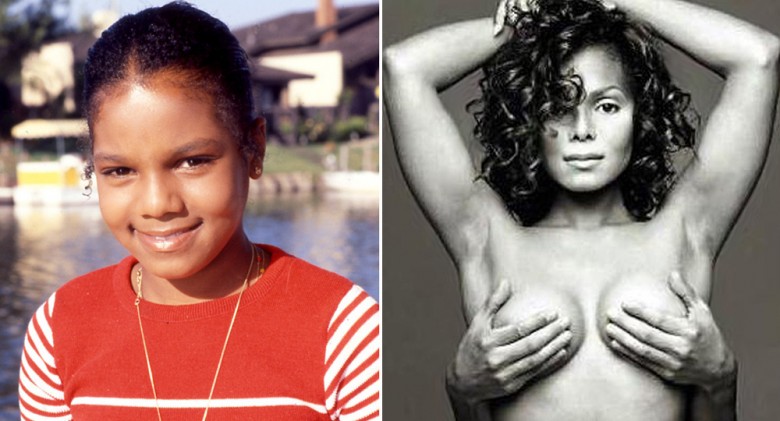 Catherine Jackson thought Janet was too much of a tomboy and actually tried to enroll her youngest daughter in etiquette classes.
"She refused to go to etiquette and charm school, she didn't want that," the pop star's older sister LaToya recalled during an interview on CNN's Piers Morgan Tonight. "We took her to this school and my mother was driving, Jan was in the back of the Mercedes, and the minute my mother got out the car to open the door – Jan locks the door, locks my mother out, props her foot against the door and holds it like, 'You are not going to get me out of this car!'"
And Jackson has only partially outgrown her tomboy phase. In a 2006 interview with Hollywood Life, she described herself as "a chameleon. Part of me is sexy, part of me is very religious, part of me is a family girl, part of me is wild. I'm a tomboy in most things, but I'm girly sometimes, too. I like wearing men's suits and I like wearing high heels that defy gravity!"
#10. Kristen Stewart.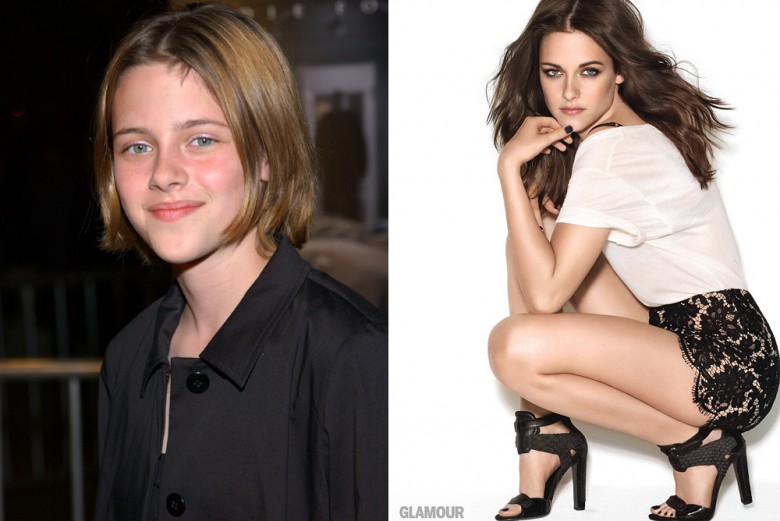 The Twilight actress has been caught multiple times wearing sneakers under her gown at Hollywood premieres.
"I have always been a tomboy," Stewart told Elle UK. "I wanted to look like my older brother when I was younger. I lived in hand-me-downs and was always borrowing his clothes. My earliest fashion memory is cutting up an old pair of Levi's and going to careers day at nursery dressed as a rock star."
Stewart proved that tomboys can be sexy, too, when the actress Glamour called, "the crown princess of grungy, tomboy chic" was also voted the magazine's "Best Dressed" in 2012.
#9. Mila Kunis.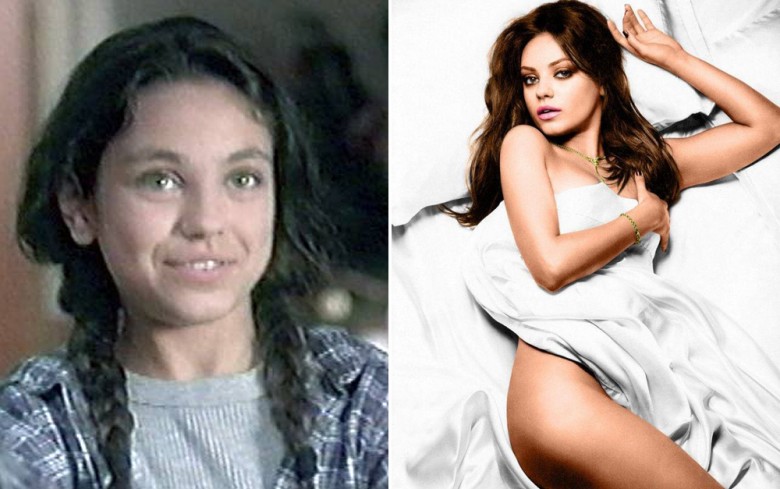 She may have been Esquire's "Sexiest Woman Alive" in 2012, but Mila Kunis was a self-proclaimed tomboy as a young girl growing up in the Ukraine.
"I have an older brother, he's 6 years older than me, so when I was like 3, 4, 5… little… my parents would always be like, 'Go play with Mike,' and they were like, 'Go take your little sister,'" Kunis once told Static. "I grew up in a small town in Ukraine, where kids went and played in the neighborhood all day long. You got kicked out of the house, and you ran around for eight, nine hours, and you came back completely scraped up and bloody and starving."
#8. Fergie.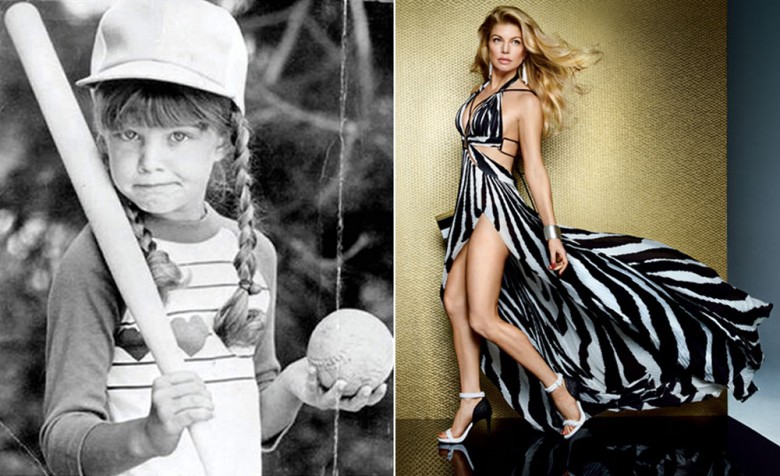 The pop star's raw edginess helped her land her gig with the Black Eyed Peas, but it was only through that experience that Fergie learned to embrace her feminine side.
"When I first joined the Peas, I didn't ever want to wear a skirt. I was in a kind of hard-edge point in my life, rough around the edges, collecting unemployment and living at my mom's," she told MTV in 2009. "I wasn't in a girly mood at all. But finally, when Hey Mama came around, the guys persuaded me to wear a skirt."
But Fergie wasn't ready to ditch her tomboy persona just yet.
"I'm not that categorizable, if that's a word," she told Rolling Stone in 2006. "But it is in my dictionary. OK? Sometimes I can be tomboyish, and sometimes I can be girly. It depends on what mood I'm in. I like the balance. That whole woman/little girl thing, I like to play both of those."
#7. Christine Lakin.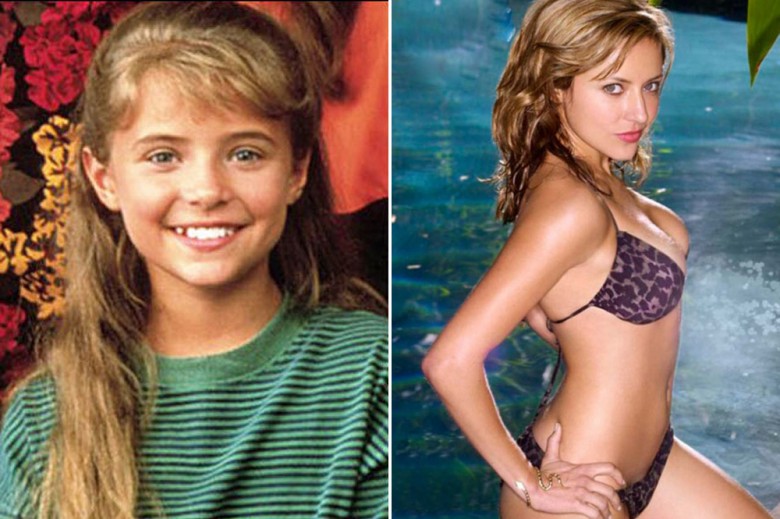 Lakin crept into America's hearts at just 12 years old when she won the role of Alicia "Al" Lambert, Patrick Dempsey's tomboy daughter on ABC's long-running sitcom, Step by Step. For the next seven seasons, however, viewers watched her blossom into quite the sexy little minx. Lakin has continued acting since the series ended in 1998, while earning a communications degree from UCLA and appearing in a steamy 2008 photo spread in For Him Magazine. The same year, Lakin starred in The Hottie and the Nottie, playing the nottie alongside Paris Hilton's hottie. Lakin, however, was much too hot for the part and extensive makeup had to be applied each day to hide her undeniable beauty.
#6. Anna Chlumsky.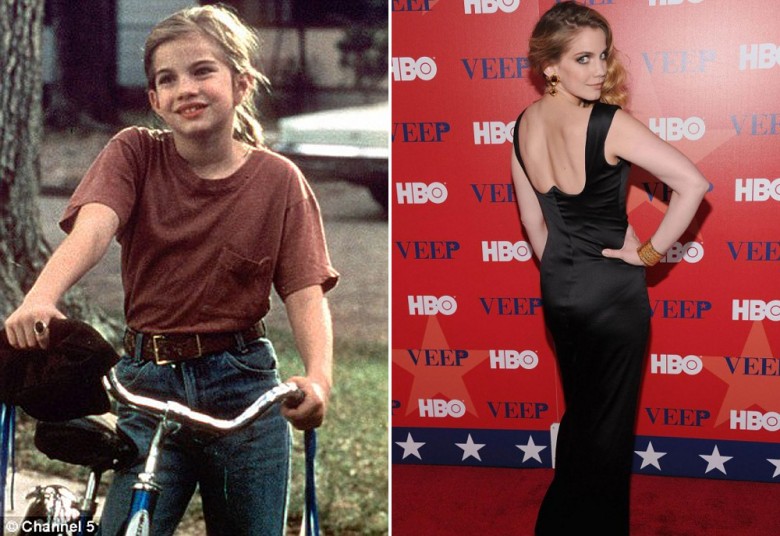 Contemporary audiences may associate Chlumsky with her role as the sensible yet uptight Amy Brookheimer in HBO's Veep, in which she stars alongside Seinfeld alum Julia Louis Dreyfus, but 90s fans fell in love with this sexy siren in her breakout role of 11-year-old tomboy Vada Sultenfuss in the neo-classic 90s coming-of-age drama, My Girl. But when Chlumsky went through her pubescent "ugly duckling" phase, the roles stopped coming, and the young actress soon fell out of sight.
Over the next several years, Chlumsky earned her degree and entered the working world before emerging from her cocoon ready to re-enter Hollywood. A classic beauty, Chlumsky still possesses the endearing smile, piercing blue eyes, and pouty lips that caught eyes the world over back in 1991.
#5. Jessica Biel.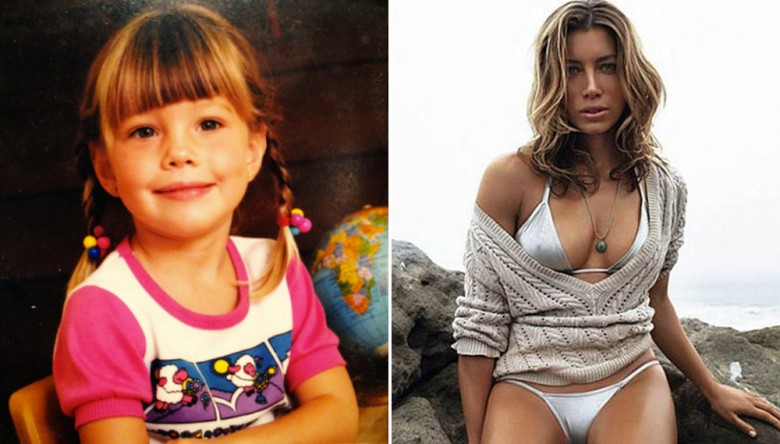 The former 7th Heaven actress became known for her rebellious streak during filming of the '90s hit series after being cast in the role of Mary- once even cutting her hair super short and dying it blond. Biel credits her carefree attitude to her relaxed rural upbringing.
"We lived in Colorado, and my parents were outdoorsy mountain people," she told W Magazine in 2012. "My Barbies were usually naked. Once, I took their heads off, cut their hair, drew on short, spiky hair with markers, then stuck the heads on Christmas lights," Biel said. "Every year, we'd string our tree with those Barbie heads. It looked demonic. My parents were so cool – they saw it as a form of self-expression."
And while she still labels herself a tomboy, there's nothing about the 33-year-old Total Recall actress that says boy. Just ask anyone who's seen her sexy photo spreads featured in magazines such as GQ.
#4. Alyssa Milano.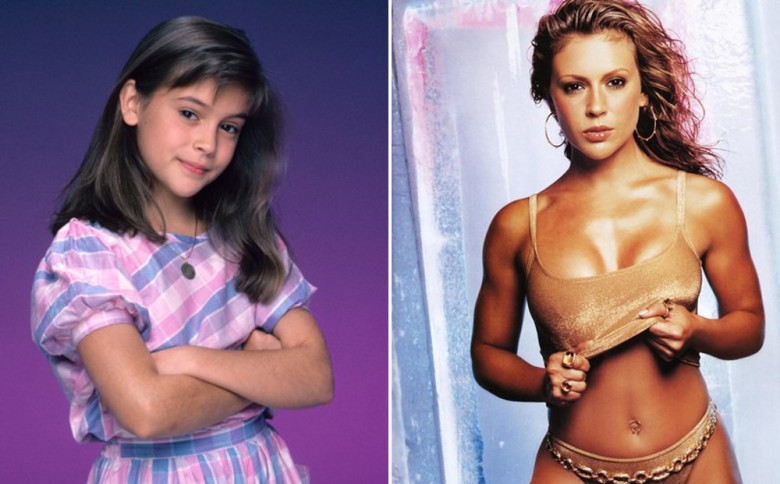 The smoking hot actress first stepped into America's living rooms in 1984 as 11-year-old tomboy Samantha Micelli on ABC's long-running hit, Who's the Boss, appearing alongside veteran television actors Tony Danza and Judith Light. But Milano has never actually represented herself as a tomboy.
"I was never a tomboy like Sam is – or rather, like Sam was," Milano told the Chicago Sun-Times back in 1986. "Now that Samantha is a teenager, the writers are making her more feminine and less into sports and all."
And the writers certainly did. Over the course of eight seasons viewers watched Milano absolutely blossom from a pony-tail-wearing, baseball-loving tomboy into a sexy siren who would go on to star in other hit series, including Charmed, Melrose Place, and Mistresses, as an adult. And banishing any doubts about her sex appeal, Milano even smoked up the pages of Maxim on more than one occasion, including an almost topless cover in 2013 when the actress was 40 years old.
#3. Miley Cyrus.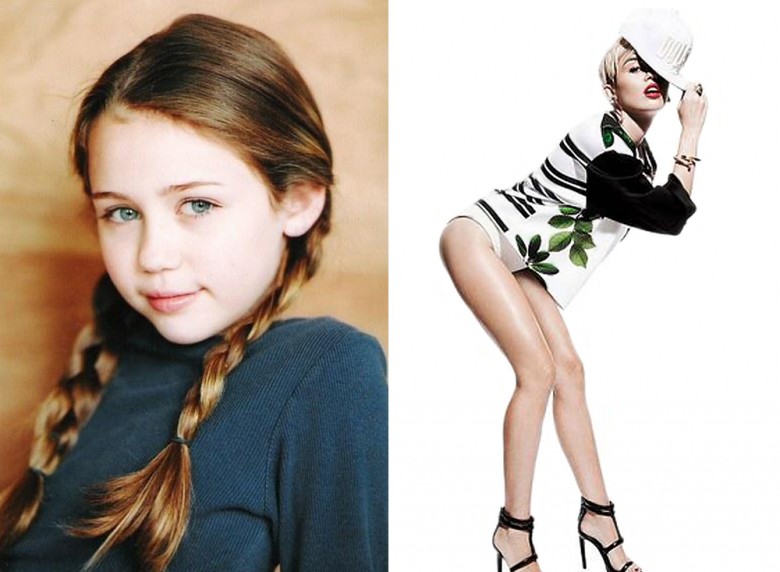 In reality, Cyrus always felt a far cry from the glamorous Hannah Montana, the actress and recording artist's breakout role and title character of the hit Disney Channel series. In reality, Cyrus was always a tomboy and could more closely relate to Hannah Montana's best friend Lilly Truscott, played by Emily Osment.
Now a 22-year-old exhibitionist,among other things, Cyrus has actually grown into a sexy woman if one can get past all the inappropriate nakedness, crotch shots, and tongue displays. But Cyrus still doesn't identify with girly-girls. In fact, she doesn't identify with girls at all, labeling herself as "androgynous."
"I didn't want to be a boy," she told Out magazine when asked about her childhood. "I kind of wanted to be nothing. I don't relate to what people would say defines a girl or a boy, and I think that's what I had to understand: Being a girl isn't what I hate, it's the box that I get put into."
#2. Scarlett Johansson.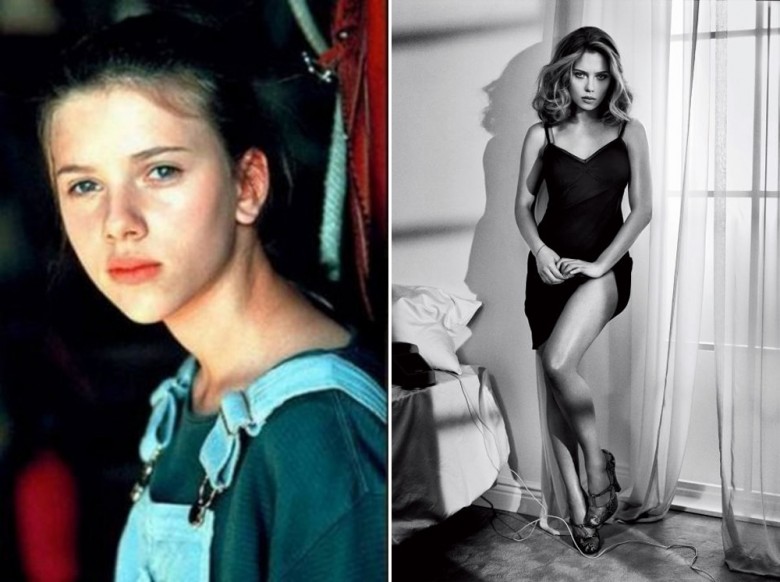 Voted Esquire's "Sexiest Woman Alive" in 2013, Johansson epitomized a tomboy when she made her Hollywood debut in 1991's The Horse Whisperer alongside screen legend Robert Redford. In fact, it would be difficult to identify the child actress as a girl from photos alone.
Now a genuine bombshell who continues to steam up theaters as Black Widow in the Marvel Avengers movie franchise, Johannson was described by Glamour as, "A tough-kid tomboy, ridiculous comic, gorgeous world traveler, bad-ass action hero, and sexpot, all at once — and always a woman everyone, everywhere, would like to sit down with."
#1. Reese Witherspoon.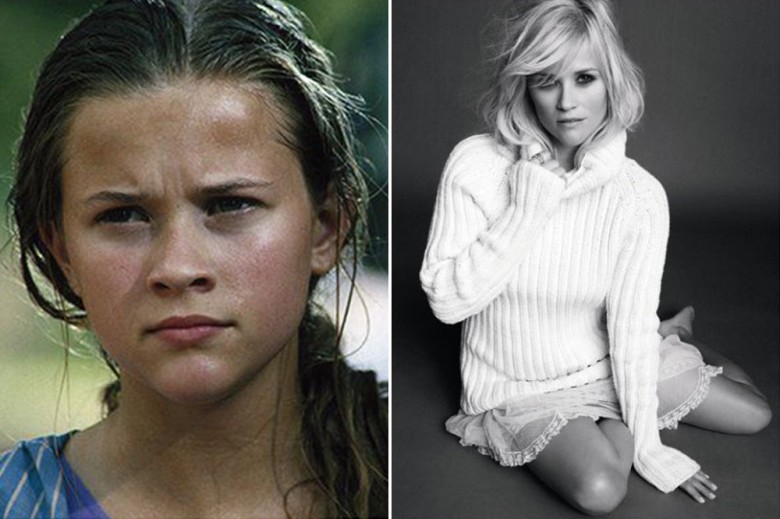 Audiences would never guess that the pampered princess featured in Legally Blonde could be played by the same actress who convincingly portrayed a 14-year-old tomboy in 1991's The Man in the Moon if they hadn't witnessed first-hand Witherspoon's transformation ever since. In fact, Witherspoon has been surprising movie-goers from the very start.
"It's fun playing scrappy, smart young girls," the Nashville native told the Deseret News in 1993. "I guess I recognize a lot of myself in those characters, but I can't say I'm just being myself. It's work and it's fun."
A tomboy no more, the Academy Award-winning actress, now 49 and mother to her own 16-year-old tomboy, has embraced her feminine side and sat for sexy photo shoots with publications such as Marie Claire, Glamour and Harper's Bazaar.
Sources: New York Times, The Guardian, Glamour, Rolling Stone, MTV.
Share your thoughts in the comments below...