We here at Men's Den know that any great piece of art is hiding some sort of secret. It might be a story, a hidden picture, or double meaning. Today we will share the ten best secrets hidden in famous masterpieces with you. Prepare to be fascinated!
#10. Salvador Dali's revenge.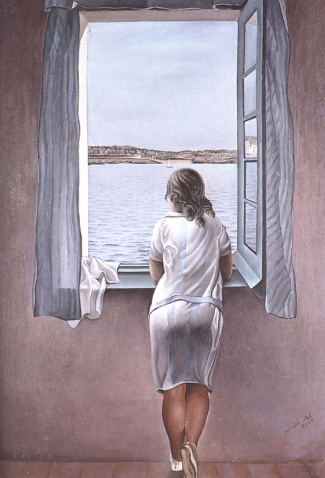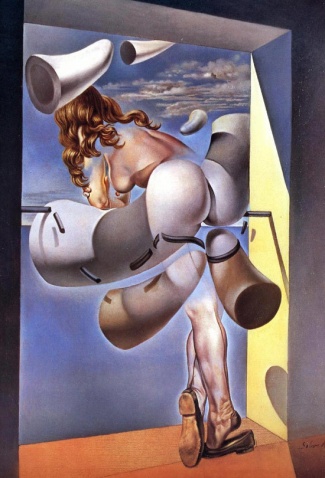 The painting 'Figure at a Window' was created in 1925 when Dali was only 21 years old. Because his wife Gala hadn't entered his life yet, Salvador's sister Ana Maria served as his source of inspiration. As time passed, their relationship worsened. Dali even said: 'Sometimes I spit on my sister's portrait and truly enjoyed it.' Ana Maria could not stand such terrible behaviour, especially from her sibling.
In 1949, Ana Maria wrote about him in her book, 'Salvador Dali, Seen Through the Eyes of His Sister.' Salvador was extremely upset about it, and would always bring it up around her. Finally, in 1954, Salvador painted the 'Young Virgin Autosodomized by her Own Chastity.' The position, hair, landscape, and colour palette clearly resonate with 'Figure at a Window.' They say Dali's second painting was his revenge for the book Ana Maria wrote.
#9. Two-faced Danaë.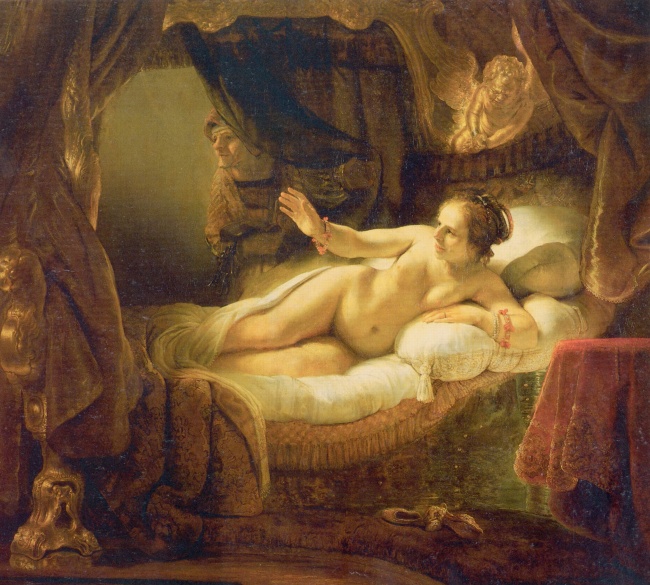 Rembrandt Harmenszoon van Rijn, 'Danaë', 1636 — 1647
In the 60s, an X-ray of the 'Danaë' revealed a huge secret. In the original version of the painting, Rembrandt's muse Danaë had the face of his wife, Saskia. The artist's wife, however, died in 1642. After her death, he transformed Danaë's face into the face of Geertje Dircx, his lover. The original Danaë was known for her affair with Zeus, so it's possible that he mirrored this painting on his own affair.
#8. Vincent van Gogh's yellow bedroom.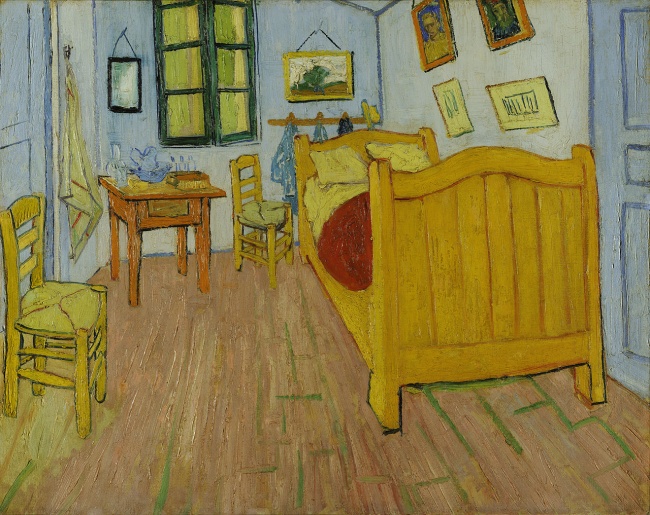 Vincent van Gogh, 'Bedroom in Arles', 1888 — 1889.
In 1888, van Gogh purchased a small studio in Arles, the South of France, where he was hiding from Parisian artists and critics. That October, he began to paint his ''Bedroom in Arles.'' The colour palette and overall cosiness were important aspects of the painting; his room was meant to symbolise comfort and security.
Van Gogh's specialists have a different explanation for such an unusual colour scheme. While painting this piece, he was taking digitalis that helped him fight his epilepsy. This drug makes it very difficult to perceive colour. That's why the surroundings appear to be yellow and green.
#7. Toothless perfection.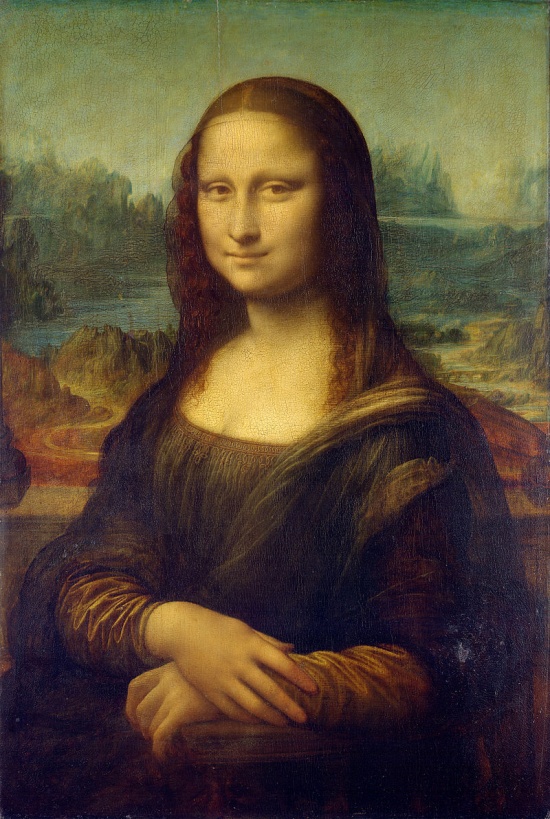 Leonardo da Vinci, 'The Mona Lisa', 1503 — 1519.
The Mona Lisa is known for its perfection and mystery. Joseph E. Borkowski, an American art specialist, as well as a part-time dentist, suggests that the original woman didn't have many teeth. Borkowski was able to find scars around Mona Lisa's mouth by looking at zoomed-in pictures of the masterpiece.
'[The Mona Lisa] wears an expression common to people who have lost their front teeth. A close-up of the lip area shows a scar that is not unlike that left by the application of blunt force.'
#6. The face control major.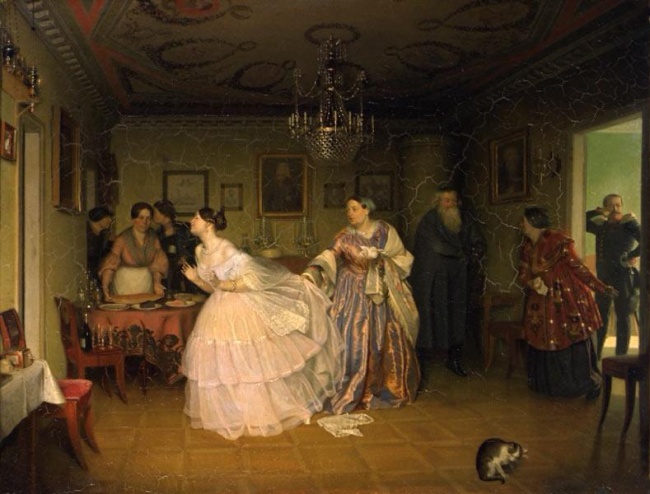 Pavel Fedotov, 'Major's Betrothal', 1848.
When ''Major's Betrothal'' was introduced to the public, the audience laughed out loud. In his painting, Fedotov added many funny, ironic elements that only people of his era would understand. For example, the major in the painting did not follow the etiquette of his time period. He did not bring bouquets for the bride or her mother. Also, the bride put on an evening dress during the daytime (we know this because all the lights in the room are off). Most likely, the young woman wore what was considered a low-cut dress for her time. She looks ashamed and is trying to hide in her room.
#5. Why is Freedom nude?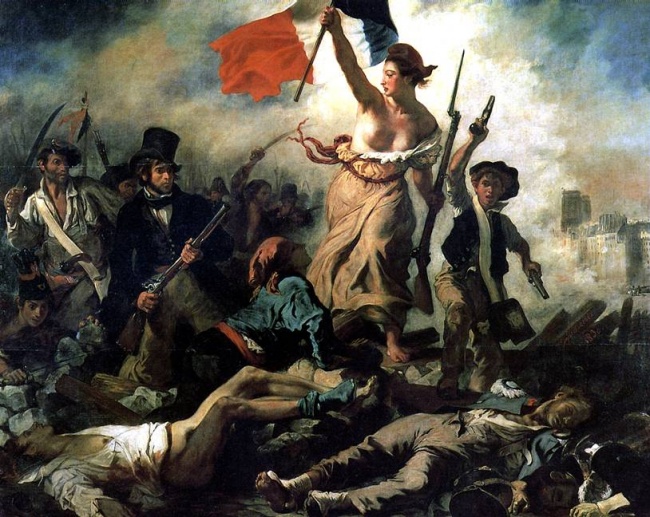 Ferdinand Victor Eugène Delacroix, 'Liberty Leading the People', 1830.
Art history specialists suggest that Delacroix was inspired to paint Freedom by the revolutionary laundress Anna-Charlotte, who ran straight into the barricades after the death of her brother and killed nine guards. The artist depicted her with a nude chest. According to Delacroix, an open chest is a symbol of courage and dedication, as well as the triumph of democracy. The naked chest shows that Freedom, like any female commoner, does not wear a corset.
#4. A square that is not too square.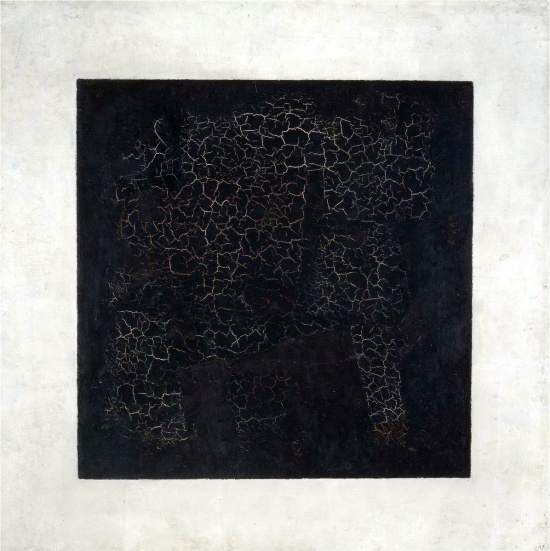 Kazimir Malevich, 'Black Square', 1915.
It turns out that 'Black Square' is neither black nor square. None of its sides are parallel to each other nor the frame's edges. Also, the ''black'' colour is a result of a concoction of many different colours, not a black paint. Specialists note that it is painted like this because of the desire to create a dynamic, mobile form, rather than the negligence of the artist.
#3. Old Fisherman.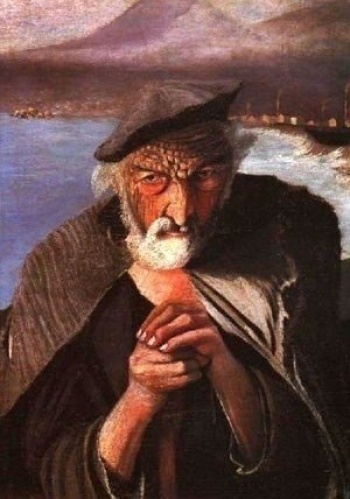 In 1902, Hungarian artist Csontváry Kosztka Tivadar created 'The Old Fisherman.' Although the painting seems ordinary at first, there is something very unusual about it. Through this painting, Tivadar implied something that remained unnoticed until after his death.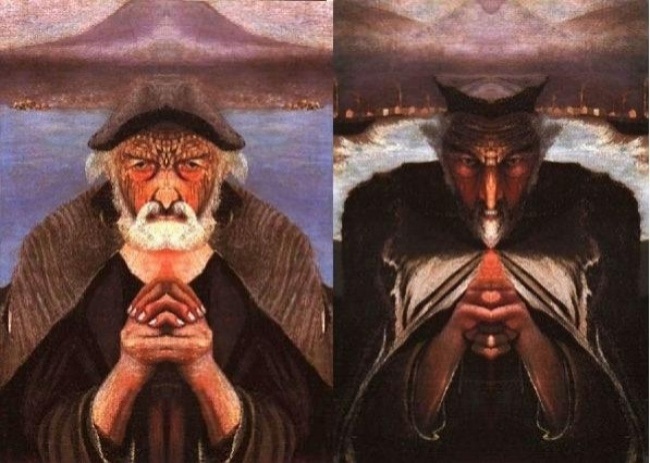 Very few people thought of putting a mirror in the middle of the painting. The painting as a whole is meant to symbolize that every person has God (the right shoulder of the fisherman), and the Devil (the left shoulder of the fisherman) within themselves.
#2. Drama of the Austrian Mona Lisa.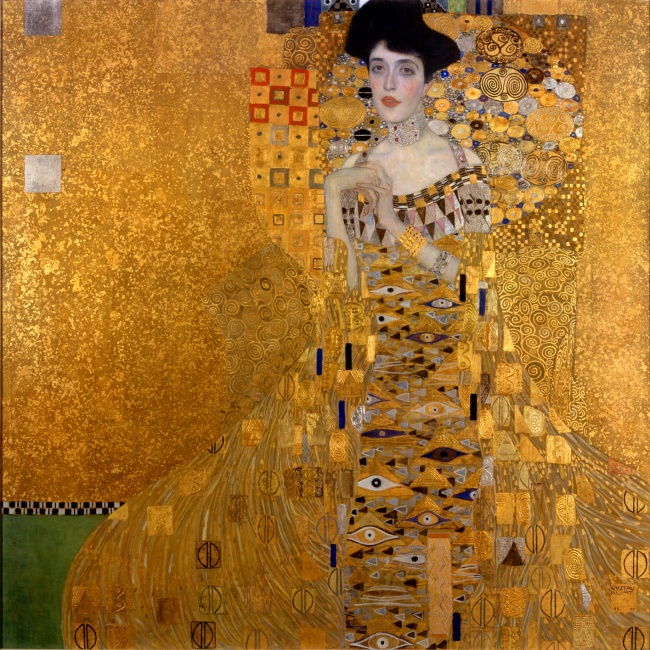 Gustav Klimt, 'Portrait of Adele Bloch-Bauer I', 1907.
Klimt depicted the wife of the Austrian sugar magnate Ferdinand Bloch-Bauer in his most famous painting. All of Vienna was discussing the love affair the famous artist had with his muse, Adele. Her offended husband knew about this and wanted to take revenge on the lovers. He opted for a very unusual method of doing so. He ordered Adele's portrait and made Klimt create hundreds of sketches, hoping that the artist would get tired of the woman.
Bloch-Bauer wanted this project to last a few years, so his wife could see Klimt's feelings diminish. Bloch-Bauer paid the artist very well, and everything ended according to the husband's plan. The work was finished in four years, and the lovers had long grown cold towards each other. Adele Bloch-Bauer never learned that her husband knew about her affair with Klimt.
#1. The painting that brought Gauguin back to life.

Paul Gauguin, 'Where Do We Come From? What Are We? Where Are We Going?', 1897-1898.
The most famous painting by Gauguin needs to be read right-to-left, like the kabbalistic texts that very much interested the artist. The painting is an allegory of a man's spiritual and physical life. He develops from the birth of the soul (sleeping baby in the left bottom corner) to the inevitability of the hour of death (a bird holding a lizard in the bottom left corner).
Gauguin was working on this painting in Tahiti, where he had found his refuge from civilization. His ''escape'' proved to be unsuccessful. Total poverty led him to severe depression. When he finished the painting, which was to become his spiritual testament, Gauguin took a box of arsenic and went to the mountains to commit suicide. He had not calculated the dose properly, and his suicide attempt failed. The next morning, he went to his hut and fell asleep. He felt a forgotten thirst for life as soon as he woke up. In 1898, he entered a new, more successful stage of his career.
Share your thoughts in the comments below...