Justin Timberlake and Jennifer Aniston stopped by The Ellen Show to help deliver a surprise for her 2000th show. Aniston was actually a guest on Ellen's first episode. She brought a welcome mat quite similar to the one she gifted the host on the show's very first episode, which aired Sept. 8, 2003. But a door mat was not the surprise that she and Timberlake were delivering. It was also not the revelation that for a literal split second an actress other than Aniston played Rachel on Friends. And while Ellen and Timberlake would be a musical match for the ages, JT did not perform one of his famous rap montages.
They noted several times that it's really, really difficult to surprise Ellen. It's also tough to stage a surprise for the host of any show, whose job it is to know everything that will happen every day. But they pulled it off spectacularly, and Ellen loved every second of it:
https://www.youtube.com/watch?v=XZ4sc3gzLo8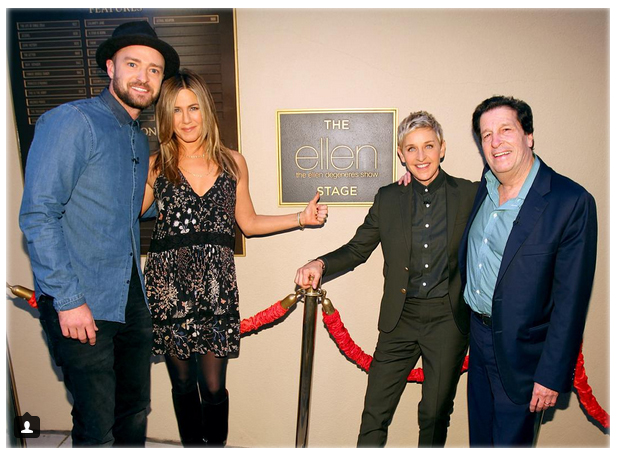 Having a stage named after you is a huge deal in the entertainment industry. It's a permanent reminder of a star's legacy and the importance of their show. Now that the serious dedication is out of the way, Ellen can focus on things like having Adam Levine meet three-year-olds that cry when they find out he's married.
Share your thoughts in the comments below...