For over 50 years, Jim Murray has electrified the world. He has dozens of inventions, patents, and now he has made a discovery that could change how humans use energy.
Jim told the Free Thought Project that he had a bond with electricity and motors since he was 5-years-old. His father had model trains sets that caught the attention of Jim and led him to spent many hours tinkering with them. He created his first electromagnet at the age of 6.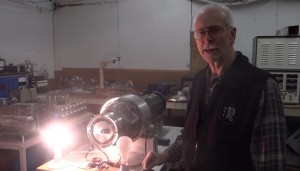 Jim spent many years studying multiple fields of interest as he followed his intellectual curiosity. When he was in grade school he studied and built radios and rockets, and by high school an interest in nuclear physics emerged. This new interest led him to build a linear electron accelerator which he then entered in the 1964 New England Science Talent Search. He took first in school, city, and state competitions and the Boston Museum of Science displayed his project.
Shortly after his graduation, Jim started studying Nikola Tesla's work. Captivated by Tesla's claims regarding power generation and transmission, he pledged to rediscover the secrets never disclosed by Tesla. His quest eventually directed him to souls like Otis T. Carr. These individuals helped Jim in understanding a number of Tesla's lost secrets.
Jim's professional life has seen many experimentations and research, on a diversity of differing technological applications. This experience led him to develop the SERPS (Switched Energy Resonance Power Supply) device. This instrument is able to magnify the power it receives by nearly 50 times the effective power. Jim combined his device with Paul Babcock's patented 5 nanoseconds switching technology and attained a 4790% increase in electrical output in contrast to the input. If this performance is commercialized it would put the largest electric utility companies in distress.
"Electric power is supplied by a special transformer to energize a resistive load. The undissipated magnetic potential is then captured and stored temporarily, before being sent back to the source through the very same electrical load. This oscillating power has completely different properties than conventional electrical power, and actually reduces the total power required from the source. The consequence of this energy dynamic is that the resistive load can be powered more than twice as efficiently, while the net power supplied by the line is reduced to a very small value. The implications of this technology for power conservation in the future are absolutely astonishing!" Jim explains.
Don't forget to check out the video in the next page.